Two weeks ago, we received a request from the Chinese government, who require all imported cold chain products to be sterilized on six sides of the outer packaging before they can be sold on the market, to use our automated sterilization equipment to provide a solution for them. In just two weeks, we have made three iterations of the equipment, and it is now in stable operation. Four people with one machine can disinfect 100 tons of cargo in eight hours, and the disinfection effect has passed experimental verification.
What are the challenges of cold chain parcel sterilization?
1. Cold chain parcels need to be disinfected on 6 sides without dead ends, manual disinfection will be missed and cannot ensure disinfection on all 6 sides, and the efficiency is not high, so workers get tired easily.
2. Due to low temperature, there will be frost on the cold chain parcel, which will affect the effect of disinfectant, so the adhesion on the surface must be solved during disinfection, so that the disinfectant can reach the parcel surface.
If the disinfectant is to be recycled to reduce waste, make sure the filtering and recycling system and spray nozzles are not clogged.
4. The weight of the cold chain parcel is not light, a smooth parcel in 50-80 pounds, disinfecting 100 tons a day requires the equipment to withstand 5000 times of feeding, which requires the equipment to be very strong and durable, and all materials in contact with the disinfection water must be corrosion-resistant, and at the same time the equipment should be easy to move, in order to adapt to different sites of disinfection operations.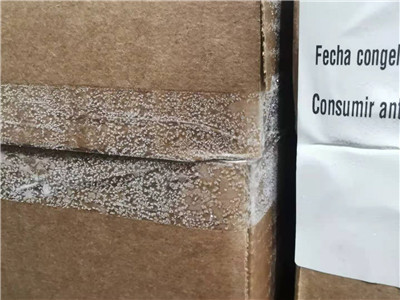 Take a look at the features of our equipment.
Equipment occupies an area of 3000 * 1500 * 1500mm, feed opening 600 * 550mm, suitable for various sizes of parcels, the whole machine 304 stainless steel is durable and corrosion resistant.
1. Solve the durability problem of the equipment to withstand 5000 times a day, the bottom casters + lifting cups, easy to move and run solid, can enter the car.
2. Six-sided spray disinfection leaves no dead corners, can be third-party testing, but also according to customer requirements to add physical air drying function.
3. Solve the problem of nozzle clogging and no fog, the parcel surface is dusty, which can easily cause the filter system to collapse and clog the nozzle.
4. The equipment can run at a speed of 5s/parcel, more than 100 tons in 8 hours.
5. The whole equipment is equipped with water tray and diversion port to prevent water leakage and solve the problem of water inside the equipment to prevent the accumulation of disinfectant liquid to corrode the equipment.
Welcome to contact us, we have been producing all kinds of Disinfection Equipment since 1998, we can customize the products according to the customer's requirements, we always adjust the design according to the market requirements for cold chain parcel disinfection, we believe our experience can help you!